Email Marketing
Email Marketing is easy, affordable, direct, time-sensitive and highly effective.
It can solidify existing relationships, start new ones and convert your one- time visitors into long-term customers. You spend less time and money than with traditional marketing.
| | |
| --- | --- |
| I help clients get started with Constant Contact, customize their newsletter templates to match their Web site and other marketing materials, and provide ongoing support at whatever level desired. | |
Your newsletter can look like this!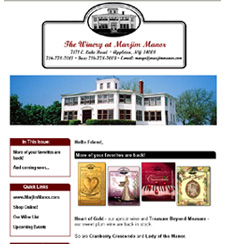 In an online survey:
45 percent of respondents say the first thing they do when they wake up in the morning is check their email - even before brushing their teeth.
80 percent reported that the first thing they do upon returning to the office from lunch is check emails - even before checking voice messages.
78 percent of consumers rated email as their preferred way to hear from their favorite merchants and businesses.
Studies have shown:
Email Marketing generates $15.50 in sales per dollar spent - more than any other marketing channel.
5.5 million small and mid-sized businesses are projected to implement an Email Marketing program over the next few years. These businesses are your competition!
But, Email Marketing can only be that powerful when it's done well.
Using your standard email client (e.g. Outlook®, Hotmail®, AOL, Yahoo® etc.) to send a Bcc text or HTML message to your list is not doing Email Marketing well.
Why not?
Standard email clients are not designed for Email Marketing and can actually undermine your Email Marketing efforts. Mistakes can happen. The most common mistake is exposing your entire list in the To: line, which violates all of your list members' confidentiality by showing their email addresses. Annoying too.
Isn't it time for your business to use the power of the Internet? Give me a call to find out how easy it is to get started.