Why Nobody Reads Your Facebook Posts
<![if !vml]>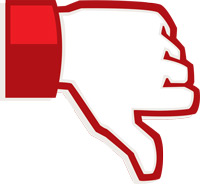 <![endif]>
Facebook's algorithms have been changing over the last couple of years. At present organic (free) business feeds make up only about 6% of what you see, according to a recent study by Social@Ogilvy. Worth reading.
In other words, 94% of what you post for your business will probably not be seen.
BTW your posts are ending up in a folder located to the left of the News Feed called Pages Feed. So they do show up. However that doesn't mean people will always remember or be inclined to search in the folders for your posts.
Facebook wants you to pay to be seen. If you "boost" your posts, you will reach hundreds, maybe thousands more, depending on what you are willing to spend. I've seen this work for some businesses and not make any sense for others.
Is it time to dump Facebook?
Tempting, but no. For a couple of reasons. Your Facebook business page shows up in Search Engines results, which benefits you. If you have a good Facebook page keep it. Plus, Facebook can still be useful as PART of your marketing plan.
A few Facebook tips:
I have noticed that I am seeing more "friend" posts vs. business page posts. So when you post to your business page, also share your post using your personal account.
Put a Facebook Feed on your website if that makes sense for you.
Be realistic in your expectations. Don't be lulled into a false sense of security because 5000 people saw your post. Are you reaching people that care or don't care? Do you see results such as sales or attendance to events?
What is the best approach?
Make your website and/or blog your informational hub. This is where you have the most control over your message. Then keep it up-to-date!
Know your target audience(s) and what marketing venues work for them. Branch out. Not everybody is on Facebook. I am a firm believer in Email Marketing and the value of an email list of people who have given you their permission to contact them. Sometimes you may even have to -GASP!- place an ad in a newspaper or send a postcard with actual postage.
Putting all your eggs in one basket is no way to go to market.
As frustrating as Facebook changes are, change is nothing new. Remember when MySpace was all the rage? It does seem to come quicker now, which is a challenge.
It is important to make an effort to stay informed of current social media trends, measure these options against your business objectives and adjust your marketing strategies accordingly.
I am building my subscriber list. If you know someone who might find my Web Tips useful, please forward a copy to them using the link below.
I also post more tips and interesting tidbits on my Facebook business page. Just hit the "like" button below and stay informed!