What You Need To Know About The Heartbleed Bug
<![if !vml]>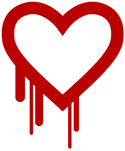 <![endif]>
You have probably heard or read about something called the Heartbleed bug. You may have ignored it because you didn't think it applied to you. Or maybe you were overwhelmed by the conflicting advice on what to do.

What is it?

Heartbleed is not a virus. It is an encryption flaw in OpenSSL, a widely used piece of open source security code. The flaw has been present for over two years, but only discovered recently.

How does this affect you?

Google, Yahoo, Facebook, Dropbox, and many other websites that we use every day were vulnerable, exposing sensitive account information. This is some serious stuff.
What should you do?
Most sites that were vulnerable to the bug have updated their servers with a security patch to fix the issue, so now is the time to change your passwords. It was advised to wait until sites implemented the patch, otherwise your changed password would still be vulnerable.
This should be a wake-up call for strong passwords, using different passwords for different accounts and changing them often. Here is a past Web Tip on How to create a strong password.
You can use the resources below to learn more about Heartbleed and take action to protect yourself.
Helpful Resources for Heartbleed
Lynda.com has a short video that explains in plain terms what Heartbleed is all about and what you should do, including instructions on how to change your password in some major sites like Facebook, Google, Instagram, Twitter and Dropbox.
Watch the video by Lynda.com on How to Protect Yourself.
Mashable.com has a page where you can check specific URLs to see if they were affected by Heartbleed.
There is also website called LastPass that offers a Heartbleed Checker, where you can check website URLs to see if they have patched this flaw and if it OK to change your password.
Here is an excellent Infographic on Major Sites Affected by Heartbleed.
I am building my subscriber list. If you know someone who might find my Web Tips useful, please forward a copy to them using the link below.
I also post more tips and interesting tidbits on my Facebook business page. Just hit the "like" button below and stay informed!