I have been reading Enchantment: The Art of Changing Hearts, Minds, and Actions by marketing expert Guy Kawasaki.

The book talks about how to build customer relationships and achieve likability and trustworthiness (win friends and influence people) in an enchanting way.
The first step is likability, and the first key to likability is a great smile. Not a fake smile.
A real,<![if !vml]>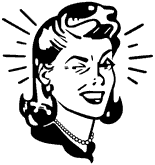 <![endif]> authentic smile requires both the lower jaw muscles and the eye muscles, and creates crow's feet.
Guy says crow's feet are a good thing if you want to be an enchanting person, so forget the Botox and the plastic surgery. I guess I'll go easy on the Photoshop fixes from now on!
If you liked this newsletter, please forward it to a friend or colleague. I also post more tips and interesting tidbits on my Facebook business page. Just hit the "like" button below and stay informed!