Wednesday Web Tip

April 17,
2013
Spring Cleaning for Your Website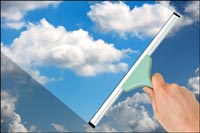 When Spring arrives, many people are motivated to do an intensive spring cleaning of their house.

In addition to putting away winter clothes, washing windows or cleaning your carpets, you should do some spring cleaning on your website as well.

Here is a quick checklist is get you started:

Check your text:
Those "winter specials" should be long gone! Is your content up to date and relevant to where your business is now? Does it give your visitors the experience you want it to provide?

Check your outbound links.
For example: if you have links on a resource page, test them to make sure the pages you are linking to are still there. They may have moved or no longer exist.

Freshen up your photos.

Update your Search Engine Optimization.
If you have added new products and/or services, you need to add them to your Search Engine information. Check your web statistics to see what people are looking for on your site and how they are getting there. Is it what you expected?

Evaluate your Marketing Mix.
Think about what Social Media venues make sense for your business and try one or two. It is easier than you think.

Spring is a time of new beginning. Customers will be anxious to shake off those winter blues. Be ready!
You can
check out my website
for past hints, articles and newsletters!


Annette Riley Web Design
716-434-1500