Wednesday Web Tip

January 16
,

2013

Welcome new subscribers! I send a quick Web Tip to you on the first Wednesday of each month, or whenever I have a tip to share! The tip will be short, important to know and easy to implement.
Scammers try to bill you for services you don't need.
DNS Services Scam
We already know about disreputable domain registration companies, like Domain Registry of America, that send fake renewal notices. Over the past few weeks, several of my clients have asked me about "invoices" they have received from DNS Services, a company in Vancouver Washington. I received one myself.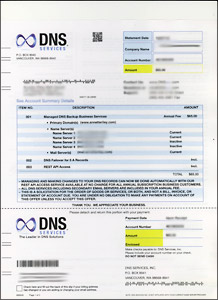 This new scam, aimed at small businesses that have their own websites, is a solicitation (complete with the fine print disclaimer), but appears very much like an invoice for $65. It has an account number, correct identifying information and a bottom portion to detach and send along with your check in a handy return envelope. DNS Services is trying to trick business owners into purchasing services they did not ask for and do not need.
Here's what it looks like. Throw it away!


As always, if you have questions or concerns about your domain name, hosting services or website, I invite you to call or e- mail me and I would be glad to help.

Annette Riley Web Design
716-434-1500