Important notice for Gmail Subscribers:
Do you use Gmail to receive the Wednesday Web Tip Newsletter?
You may already know that there are some new features being rolled out with Gmail -- one of which automatically filters your email messages for you.
If you haven't been seeing my newsletters or you notice that they seem to have gone missing, it's likely that Google is categorizing them as "Promotions" and automatically filtering them out of your inbox, which means you won't see them unless you change your Gmail settings.
No worries. It's an easy fix.
If this change has already hit your inbox, just drag one of of my emails to the "Primary" tag and be sure you click "Yes" when the alert pops up.
You can also completely remove these new tabs. Go to the Settings box in the upper right hand corner of your inbox and select "Settings." Click on the "Inbox" tab and deselect all categories except "Primary." Be sure to save your changes.
If you do <![if !vml]>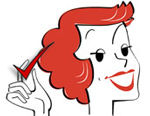 <![endif]>one of these two things,you won't miss out on any articles, tips or offerings.
If the change hasn't happened to your Gmail account yet, then save this note for when it does.
Thanks for being aware of this and making the changes to your Gmail preferences.
You can check out my website for past hints, articles and newsletters!