How Will Gmail Change Your Marketing Strategy?
You may already know that there are some new features being rolled out with Gmail. Gmail will automatically filter your email messages into one of five tabs: Primary, Social, Promotions, Updates and Forums.
If you don't use Gmail, why should you care?
Email marketing messages, like this newsletter for example, will most likely end up in the Promotions tab -- along with paid advertisements (yuck). This creates one more step your subscribers have to take to read your emails, possibly lowering response rates.
Reactions from most email marketing service providers and marketing experts range from cautious optimism and taking it in stride, to quietly freaking out.
What can you do?
Ask your Gmail audience to move your messages to the Primary tab - and then tell them how to do it. I sent out an email to my Gmail subscribers earlier this week. You can read it here.
Be patient and persistent. Get the word out on other Social Media like Facebook and Twitter.
<![if !vml]>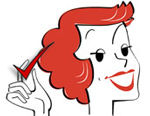 <![endif]>
It is more important than ever to make sure the content you are sending is of the highest quality. Make it relevant and useful to your subscribers. Make it about them, not you. You will need to motivate them to look for and read your your messages.
Come to think of it, that is true for all of your subscribers all of the time, isn't it?
You can check out my website for past hints, articles and newsletters!

If you liked this newsletter, please forward it to a friend or colleague. I also post more tips and interesting tidbits on my Facebook business page. Just hit the "like" button below and stay informed!