<![if !vml]>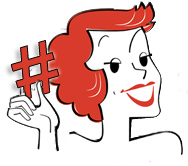 <![endif]>You've heard about hashtags, and you probably know that they are widely used on Twitter. You may even know that they are now being used on other Social Media platforms such as Facebook, Instagram, Pinterest and Google+.

You may also wonder, "What the heck are they exactly?"

A hashtag is a way to label content written for Social Media so it can be easily shared with people who are interested in, or following, a certain topic.

You create this label by placing a hashtag (#) in front of the keyword or keywords that are relevant to the subject you are writing about. Clicking on a hashtagged word shows you other posts marked with that keyword. It can also be used as a search item.
Hashtags can make you more visible to your target audience, and attract others interested in the topic to follow you online as well. For example, if I post my newsletter on Twitter, I add the hashtag relevant to the subject I am writing about:#webdesign or #marketing, etc.

Hashtag.org tells about the many ways they can be used.
(Yes, there is an organization devoted to hashtags!)

"Hashtags can be used to advertise, show emotion, announce an event, introduce a product, recommend or find people with the same interests. The main purpose is to make the topic easy to find and to look for relevant users that can help expand your network."
Or You Can Use a Hashtag That Already Exists
You don't always have to create a new hashtag, you can use exisiting hashtags to add to a topic or be part of an ongoing discussion.
Don't Spam with Hashtags
Use no more than two hashtags, or three tops.

Make sure your content and hashtag are relevant to each other.

Never add a hashtag to an unrelated message just to promote yourself.
Hashtags can be very useful, but sometimes people can get carried away. Here is a recent video poking fun at hashtags.
If you liked this newsletter, please forward it to a friend or colleague. I also post more tips and interesting tidbits on my Facebook business page. Just hit the "like" button below and stay informed!