A compelling subject line in your e-news makes all the difference.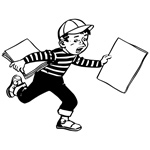 I'm glad you didn't take my subject line literally and decided to read my newsletter anyway!
I have been sending out an e-newsletter since 2004. Recently I have been experimenting with the subject lines for my emails. Before this I would use a subject line like Annette Riley Web Design Newsletter, Wednesday Web Tip and/or Another Wednesday Web Tip. Ho Hum, that one even bored ME.
My reason for using the above subject lines (besides perhaps a little laziness) was to provide a reputable source so the email would be opened. Pretty lame. Just proving the email is not spam is not enough. You have to make the recipient want to open the email because there is something of interest or value to them.
Putting my name in the subject line makes it about me, not them. When I started using better subject lines, my open rate shot up and I got more comments back from my readers.
Why is a subject line so important?
Studies show that a recipient decides in 2-3 seconds whether to open the email. A great subject line can be the difference between being opened or ignored.
How do you write a great subject line?
First Priority is
the principle "WIIFM"
When a person sees your email, just like when they go to your website, the first thing they consider is "what's in it for me?" Keep "WIIFM" in mind when creating every aspect of your emails, including the content!
Keep it short
Constant Contact says subject lines with 49 or fewer characters (that's only 5-8 words) have higher open rates than those with 50 characters or more.
Be Creative
A good headline increases your chances of having your email opened. You can ask a question or use a teaser to pique their interest. A straight forward, informative approach can work too. Using personal words like "you" and "your" can make your readers feel that you are speaking directly to them. The point is that being interesting will increase your chances of having your email opened.
Be Trustworthy, not Spammy
Don't trigger the spam filters (or turn off your readers) BY SHOUTING AT THEM IN ALL CAPS or using too many exclamation points!!!!!
Experiment to see what works best.
Test what you know about your readers. What are the hot button topics for them?
One measure will be the open rates.
We are all too busy to open and respond to every email that comes our way. If you can make your subject lines compelling, timely and relevant, you will have more readers. It takes practice, but it makes all the difference.