<![if !vml]>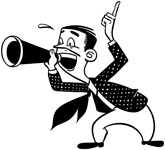 <![endif]>What is a Clear Call to Action?
So you have a website for your business and you try to drive visitors to it through search engines, marketing, social media, advertisements, etc. Great! There is one more thing to consider. Once your visitor arrives, do you have a clear call to action?
What is a call to action?
Many people think a call to action means aggressively telling your visitor to BUY SOMETHING FROM ME RIGHT NOW!!! So they don't do it because they are uncomfortable with "hard sell" tactics. Even if a sale of a product or service is the ultimate goal, a call to action means much more than that.
Simply put, a call to action is really just telling the customer or prospective customer what to do next. It is a way to make a connection with your visitors.
Obvious examples are physical address, email address and phone number. Too many people bury this information in the footer or only have it on the Contact Us page. These items should be on every page, preferably in the same place. If your business has several locations with different contact information for each, then having an easy to find contact button or graphic that stands out would be a good idea.
Other Examples of calls to action can be:
Sign up box for a newsletter which can help build a relationship and/or show your expertise

Facebook link or feed to engage your customer

Video to educate about a particular subject or about who you are

Link to a whitepaper, brochure or industry guide

Form to request a product demo or quote

Directions to your establishment so people can find you

A graphic on the home page that links to a specific inside page for donations, events, etc.

Coupons are popular, so make them easy to find. A nice touch is to have a printable version so visitors don't have to print out the whole page.
Good design helps here as well:
Intuitive navigation helps the visitor explore your website.

White space lets the viewer find and focus on the call to action.

Up-to-date content, because no one cares about Christmas specials in July or a coupon that has expired.

For forms, only ask for the necessary information. Too many questions can feel intrusive and keep people from filling out the form.
Don't make your visitor hunt or hesitate!
I will end this Web Tip with a call to action of my own...
If you liked this newsletter, please forward it to a friend or colleague. I also post more tips and interesting tidbits on my Facebook business page. Just hit the "like" button below and stay informed!