Trust Me - I'm a Trained Professional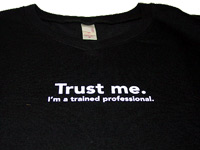 That's what it says on my favorite T-Shirt. When I wear it, strangers on the street come up to me and beg me to create a website for them. And if you believe that, I've got a bridge to sell you.
Obviously, trust is a crucial part of any business transaction. Why would you want to deal with someone you suspect of being dishonest?
So, how can you use your website to get prospective customers to know, like and TRUST you enough to do business with you?
Here are some suggestions:
Make sure your site looks professional. Start with clean, simple pages · intuitive, consistent navigation · quick load time. Then add some sensible things like: easy-to-read copy written for humans (not search engines) · good grammar and correct spelling · up-to-date content and · contact information on every page.
Use testimonials to show how you have made previous customers happy. Testimonials are most effective when they are specific about the way you helped your client and are connected to a real person with a name and company. Never make up testimonials. I can't believe I even have to mention this, but I have seen people do it!
Show samples of your work. If you are in a field like design or architecture with a tangible finished product, this is easy. You can have a portfolio or photo gallery. If you are in a service field, you can use case studies and add testimonials as above. Photos of company facilities and events work well also.
Offer free stuff. Go beyond coupons and discounts. Offer something of value (free e- newsletter, articles with helpful tips, reputable resources and links, etc.) and ask for nothing in return. This sets you up as an expert in your field and helps to earn trust.
Include a Privacy Policy. Inform visitors in a clear way what you will and will not do with any personal data you collect. Make sure it is easy to read and free from fancy legal mumbo jumbo.
Be Yourself. Let's face it - not everyone is your customer. The best way to connect with those who ARE - let people get to know the real you. Express your opinions about how you work and what you think. Including your photo and the photos of the key people in your organization can put a personal face on your business.
These are just some of the ways you can use your website to build credibility and trust. They have worked for me and I know they will work you, too.

Trust me!

Annette Riley Web Design
716-434-1500