Welcome new subscribers! I send a quick Web Tip to you on the first Wednesday of each month, or whenever I have a tip to share! The tip will be short, important to know and easy to implement.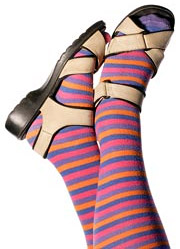 D
oes Your Website Look Out-of-Date?
I went through my clothes closet last weekend. I love the Fall weather, plus I don't want to get caught off guard when it turns cold and starts to snow. I was in a ruthless mood and got rid of more than half of what was in there. My closet was full of things that didn't fit or were no longer in style.
I want to be up-to-date, but can sometimes be clueless when it comes to fashion. I fall into the habit of wearing what I always have in the past, simply because it is comfortable or I don't what else to do.
Do you do the same thing with your website?

Here are a few things that will make your website look out-of-date:
Old content

- obviously, but you already knew that. R

egular updates will encourage people to visit more frequently, and is good for SEO too.

Pages with black background and white or florescent yellow, lime green or purple text

- This was in vogue about 10+ years ago. It is still maybe ok for rock bands or young target audiences. Anyone else will get a splitting headache. Trust me.

Hit counters -

Nothing screams amateur like a hit counter. Hosting companies provide basic web statistics with more useful information than just hits (which is not what you should be looking at anyway). Check out your hosting company provided stats. Some have simple glossaries to help you understand the terminology.

Music

- Be careful with music. Don't forget some people may be looking at your site at their workplace, without anyone knowing - until the music starts. Same

goes for videos - don't have them auto-play.

Long flash intros or excessive animation - See Pages with black background, etc. above...
No sign of Social Media

will make you look out of touch.
What will make your website contemporary?
Up-to-date, relevant information
Clean, simple pages
White space - or if not white, then just space
Intuitive, consistent navigation
Quick load time
Links to share your content, for example links to Social Media, Blogs or E-mail Marketing
You don't always need a complete makeover to keep your website current. Things like good content, clean pages, quick load time and easy to understand navigation are classics that never go out of style. Accessorize with Social Media and you can look like a million bucks!

Annette Riley Web Design
716-434-1500